We've partnered up with professional photographer Rosie Parsons this Father's Day, to teach us a few tips on how to take pictures of dad. And there's an amazing giveaway! Over to you Rosie…
---
Dads are amazing! And with Father's Day just around the corner on Sunday 18 June it's almost time to show the special Dad (and don't forget the Grandads!) in your family just how much you appreciate them!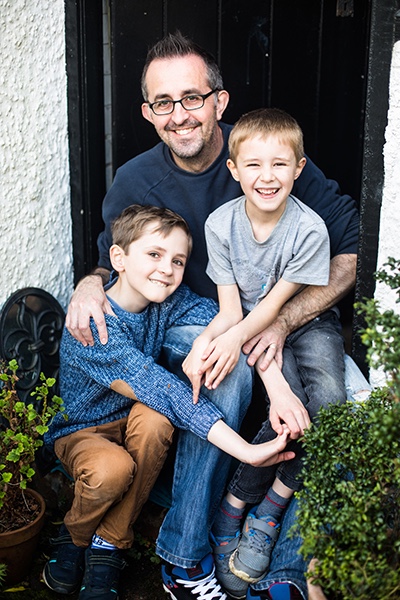 It can be really hard buying gifts for these amazing men, but we've got some great ideas and advice that will help you take beautiful photos on your camera or cameraphone. Then you can put these tips into practise to easily create high quality, absolutely gorgeous and totally unique gifts that he will love!
I'm Rosie Parsons, an award winning resident photography expert. I'm on hand to help you take some fabulous shots of the family that will look amazing on a canvas or in a photo book of your best memories with your Dad or other half from the year. We also want to see these fabulous shots for our new Father's Day Photo Challenge where you can show off your best family photos and submit them to win £100s worth of Photobox goodies! Find out more about how to enter at the end of the post.
So let me show you how to get some fantastic shots of the family in just a few easy steps.
Top family photography takeaway tips:
1. Get Outdoors
Natural light is the best light for photos as the more light you have, the sharper your photos will be – and that makes the best prints and enlargements! So it's the perfect excuse to get outside in the garden or down to the local park!
2. Find the best light
Once you're outdoors, now it's time to seek out the best light. Shade is ideal if it's sunny as the light is soft and flattering. If it's cloudy, still take the time to walk around your subjects to see which direction looks best.
3. Show connection between your subjects
It's really important to show love in a family portrait. You can emphasise this by asking the children to lean heads together and making sure everyone is holding hands or has arms wrapped around one another.
4. Get everyone at different levels
To make a nice composition, try having each person at a slightly different level in your picture. You can easily achieve this by getting Dad to sit on a step and having a child stand and another sit on his knee. You want their faces close but at different heights.
Hope you found our little video tutorials helpful! Why not try them out this weekend and get some gorgeous new family photos for our #CelebrateDad challenge that will make amazing Father's Day presents?!
Father's Day Photo Challenge!
If you have a great shot that you think would make an amazing gift for the Dad in your life then enter our new Father's Day Photo Challenge!
To enter, upload your favourite photo in a comment on the Photobox Facebook page and put in the description why it would mean a lot to the Dad in your family.
Whether you want to get him a canvas of the family for the wall, a mug to remind him how special he is to you every day or something else from the huge range of gifts Photobox has, we can't wait to see the photos that you come up with!
The closing date for entries is 15th June. T&C's can be found here.
Enjoy taking the photos and look forward to seeing all your entries on the Facebook page very soon!
Rosie x